Hey hey!
Whether you're diving deep into affiliate marketing, or curating content across different websites, we get it – managing diverse website networks can be a handful. Between planning content, tweaking for SEO, and keeping everything updated, it's easy to forget a step or two.
But here's some good news: staying organized doesn't have to be a chore. Meet Domain Notes. It's a handy tool we've built to help you keep track of tasks and strategies for each of your domains. Think of it as your reminder to ensure your website network efforts run smoothly.
With Domain Notes, you can:
Jot down quick reminders: Whether it's a task, a thought, or a strategy, keep it all in one place. With up to 1000 characters at your disposal, you have a cozy space to note down everything.
Access instantly: No more sifting through files or emails. Your domain-specific notes are right where you need them, ensuring you never miss a beat.
Boost efficiency: For marketing and SEO agencies, time is money. Domain Notes ensures you stay on track, making your operations smoother and more efficient.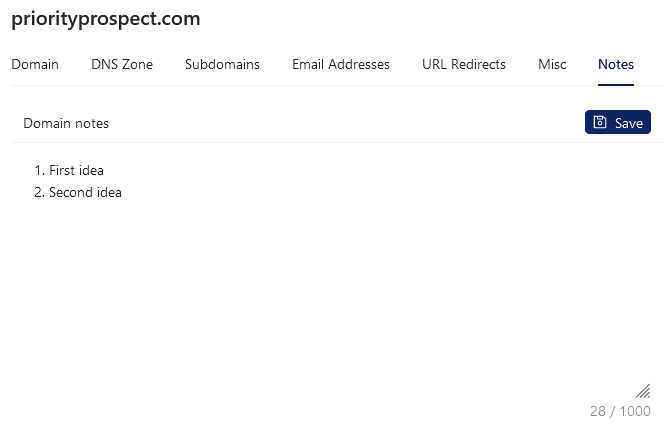 Here's how you can access Domain Notes:
Login to your panel and click Domains.
Select specific domain and click the Actions button.
Click the Notes tab.
Write your first note and click Save.
Simple as that!
You can easily access your notes by clicking the little icon next to your domain.

We understand the challenges of the digital marketing world. That's why our customer panel is designed to be intuitive, saving you both time and money. And with the addition of domain notes, we're taking another step to make your journey even more seamless.
What do you think about this feature? Try it out and let us know!