Hey everyone!
We are happy to announce a new feature to our feature arsenal. Now you are able to use our network's caching feature to make your websites super fast.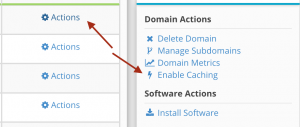 All you need to do is go to your network's view, choose a domain, click on "Actions" and then "Enable Caching".
What's great about the caching feature is that not only it makes your websites load a lot faster, it also ensures your website stays online when cPanel goes offline or experiences high load.
So how it works?
If you don't know yet, our system works in 3 layers. The first layer is IP node layer. This layer provides IPs for your websites from all over the world, from very many datacenters. The second layer is the network layer. This is where the magic happens. On the second layer, we process bots, block DDOS or other attacks and cache websites. The third layer is the cPanel/hosting layer. This is where your website files live.
As said above, website caching happens on the second layer. We have deployed the caching feature to all currently supported regions (US East, US West, EU west). This means your websites are always loaded close to your IP's location which makes it especially fast. This ensures that your websites load consistently fast, no matter if the hosting layer experiences downtime, errors or high load.
Cached pages are updated in 5-minute intervals and loaded on the background so you don't need to worry about refreshing your website's cache.
Which website types/CMS are supported?
Right now, WordPress and static HTML websites are supported. We are planning to add support for other CMS in the future. If you want to enable caching for non-Wordpress CMS, contact us first! There's high chance that it might result in a data breach (admin cookies are saved to cache, etc).
What if the cPanel servers go offline?
That's a great question. Our cache manager runs checks every 5 minutes to validate the cache and ensure all pages are up to date. If one of the cPanel servers should go offline, the cache manager will see that it can't fetch a new version of your web page so it keeps your cached page in storage until the cPanel server is back online. Once it's online, a new fresh copy of the web page is pulled to cache and everything is up to date again.
But how do I manage my WordPress site?
It's simple. Your website functions exactly like it normally would. You can log in to wp-admin and add, update, delete posts, update and add plugins, update themes and everything you normally would do.
But here's the catch. Changes for non-logged in users appear when the cache manager updates your web page's cache (in 5-minute intervals). Since you are logged in to your WordPress site, you will see everything in real-time because you are bypassing the website caching system. Once you log out, you will start seeing the cached website again. In the case of cPanel downtime, you will not be able to log in to wp-admin because the cPanel server is offline, but your website will still load because it's being loaded from cache.
How are my website's pages cached?
Pages are cached automatically by your website visitors. We are planning to add a crawler that will automatically crawl your website's pages to ensure all of them are cached.
How much this feature costs?
That's the great part! Website caching is free for all of our customers.
If you have questions, want us to add support for additional CMS or want to provide feedback? Please contact us via live support or from our contact page. All feedback is welcome!
DISCLAIMER: Please keep in mind that this feature is experimental and may not work as it was intended. Priority Prospect OÜ does not take any responsibility for any sort of problems that may occur after using this EXPERIMENTAL FEATURE, including deindexing from the search engines or even a financial loss.